Mounds View High School
Class Of 1964
MOUNDS VIEW HIGH SCHOOL Class of 1964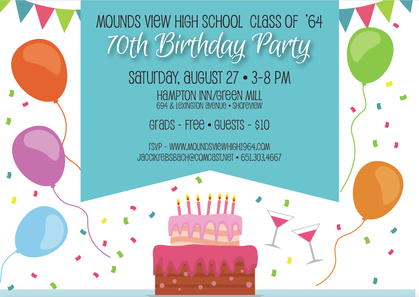 FOR COMING AND MAKING OUR BIRTHDAY PARTY A SUCCESS!!! AND....
Also, a special thanks to those that made donations to our website; your dollars will help us maintain our site!
Plans are in the works for an annual informal gathering ("same time, next year") that will be held the 4th weekend in August for those nearby and for those out-of-state classmates that might find their way back to MN and the State Fair.
Look Who RSVP

ed

to Our Birthday Party:
James S. Marchand, Bonita K. Entsminger, Harvey G. Lindeman, Paula M. Miller Cable, Diane Goserud Anderson, Janice C. Horton Plessas, Thomas N. Montain, Karen L. Solberg Solimar, James L. Hoskins, Gary J. Nelson, Jacci C. Stahl Krebsbach, Mary M. Gebhard Harper, Gail L. Carlson Woods, Jim Flink, Don Beach, Carol Ann Johnson Nelson, Jacqueline Thorsten Daharsh, John Abbott, Steve Erickson, Sylvia D. Christopherson Frolik, Rick Winters, Kristin M Stavnes Traughber, Deanne E. Raw Mellecker, Gary Rolli, Tom Winiecki, Connie J. Bartelt Mullaney, Claudia S. Carley Droel, Idelle H. Sabes Walton, Karen Opsahl Charbonneau, Gail A. Bartelt Gaylord, Peter J. Whiteneck, Kenneth J. Bourdeaux, Betty L. Holden Swan-DeLong, Sherry A. Turner Oleson, Lawrence T. Dawson, Beverly Bargeron Vandell, Jeff Poehler, Kris Lien Novak, Jim Novak, Charles. P. Cole, Dorothy Moes Haas, Sharon Linke Kuehn, Richard Gnetz, Laurie Pierre Lundeen, Yvonne Pierson Huberty, Jon Meade, David P. Saar, Ron Payne, Steven Lonien, Tom Booth, John Sopkowiak, Sheryl Stenhoff Grayden, Gary Lattin, Les Gagner, Dale Wikre, Diane Jackson Wimer, Leila M. Frogh Stritch, Robert C. Barnick, Toni M. Laplante Tredal, Tamara R. Buetow, Jeanice V. Fulwider Domino, Judy Lee Schluter Renfrow, Robert D. Sparks, Romelle M. Johnson Gangl, Sheila M. Farrell Cramer, Kathleen A. Kapaun Weisner, Susan M. DeLange Canine, Patricia E. Robertus Martin, William A. Koentopp, Terrie Eager (Hata Rianah),
*************
This was your planning committee
CAMBRIDGE, Minn. —Meghan Skiba was only a year old in 1997, but pictures and stories from that time have become part of family lore.
In late summer that year, Skiba's aunt, Kari (Skiba) Stanek was crowed the 44th Princess Kay of the Milky Way. Skiba now hopes to step into her aunt's shoes; she is a Princess Kay finalist representing Isanti County.
Skiba is studying dairy science at the University of Wisconsin-Madison. Dairying skipped a generation in her family. Dad Christopher works in construction and mom Melissa works in the health insurance industry. She is a sister to brother Caleb and sister Victoria. Grandparents Dave and Kathy Skiba's Diamond S Farm in nearby North Branch has been Skiba's lifeline to the industry from a young age. Dave and Kathy run the farm with their youngest son, Skiba's uncle, Patrick, his wife, Jenny and their four children with one on the way.
"When I was quite young, about six, I was getting ready to go outside and feed calves with grandma," Skiba said. "It had rained, and she warned me to stay away from mud puddles, but I didn't. I ended up losing a boot. She made me take off my socks and show grandpa how dirty I'd gotten. I've been blessed to get to work alongside my grandparents."
Even before the mud puddle incident, at age five, Skiba showed cattle. At Diamond S, the cows are registered Jerseys, so that's what Skiba shows. She eventually developed her own dairy prefix, Third Rock Dairy, and owns four registered Jersey. While Skiba feeds calves and helps with milking, she also is involved with herd health and works with the farm's veterinarian. Skiba eventually hopes to go to veterinary school.
The dairy science program is opening her eyes to the opportunities students have, Skiba said. This summer, for example, she is interning with ABS Global in DeForest, Wis., where she is learning about dairy genetics. She's particularly interested in the intersection of genetics, nutrition and reproduction.
"I'm learning what else goes on behind the dairy farm," Skiba said. "This is a global industry."
While she would like to become a large animal veterinarian, Skiba hopes she will be able to cooperate closely with both farmers and consumers to ensure a safe food supply. Also in the course of working, Skiba wants to inspire others to share their agricultural passion and stories.
At school, Skiba has gotten involved with numerous organizations to build her network. She credits with Association of Women in Agriculture for helping her build poise and speaking skills. She is also involved with Sigma Alpha Tau, Badger Dairy Club and Saddle and Sirloin Club. She was also farm education chair for the university's 2016 breakfast on the farm.
Back home in Isanti County, Skiba has been involved in promoting dairy. In addition to serving as county dairy princess, she now manages the American Dairy Association malt wagon at the Isanti County Fair.
"My role has evolved, and I get to be more involved with making that connection between farm and food," Skiba said.
Only three dairy farms are left in the county, which makes building the bridge between consumers and the realities of dairy farming even more important, Skiba said.
"That's why I want to pursue this opportunity for advocacy," Skiba said. "From calf care to dairy herd, answering questions is my favorite."
For practice, Skiba had friends pitch her questions. She figures if they have those questions, others likely do, too.
First graders have tons of questions, and Skiba answered them in May, visiting nine classrooms around the county. She also shared a story and taught them how to make their own butter. The next week, the youngsters visited Diamond S Farm and saw calves, the bulk tank and other things.
"To see their faces light up, for me to be able to do that is so rewarding," Skiba said.
Beyond hearing tales of her aunt's coronation and time as Princess Kay, Skiba grew up showing dairy cattle with her family in the open class at the Minnesota State Fair and always checked out the butterheads.
"I always thought, 'I want to be her,'" Skiba said. "I set a goal to become a butterhead. When I was named a finalist, it took me a moment to realize I had completed one of my ultimate goals."
When Skiba gets her butterhead back home, she plans to use it to butter up some corn on the cob for a speed eating contest with her brother.


View our 50th Reunion DVD HERE.

50th Reunion Stroll Video Click to WATCH