Mounds View High School
Class Of 1964
MVHS Trivia/Jokes
DO YOU KNOW YOUR MVHS TRIVIA?
1. What was the name of the mascot? 15. What class period were you in, when you heard of
2. What was the full name of the librarian? JFK's assassination?
3. Who did we play for Homecoming our senior year and what was the slogan?
4. How much did lunch tickets cost?
5. Who won the Sno Sculpture contest senior year?
6. Where was the Senior Trip held?
7. Who were the student Beatles?
8. Name the social event at the Y?
9. Who was the foreign exchange student and she lived with whom?
10. What are the words to the Mounds View Rouser?
11. What was the name of the prom?
12. What did the letters G.O.F.A stand for?
13. Name: The Newspaper
The Yearbook
Yearbook Addendum
The Literary Book
14. What was the dress code?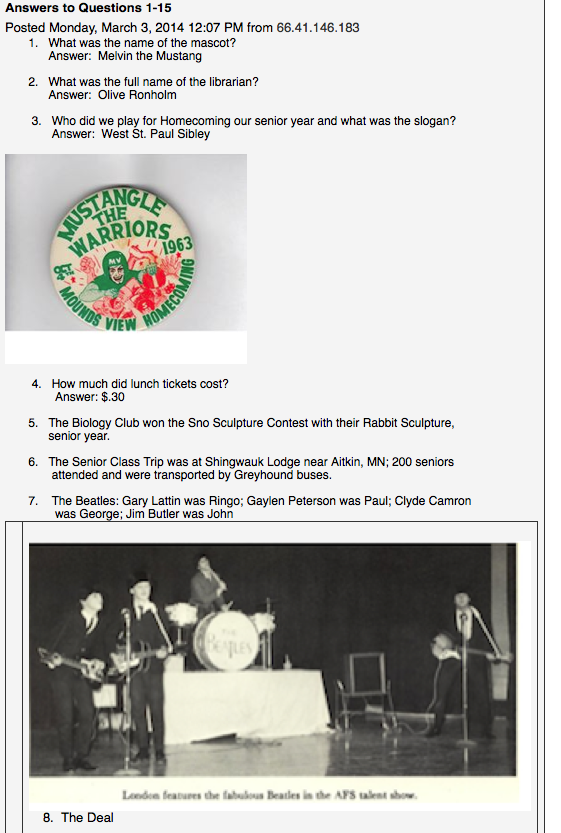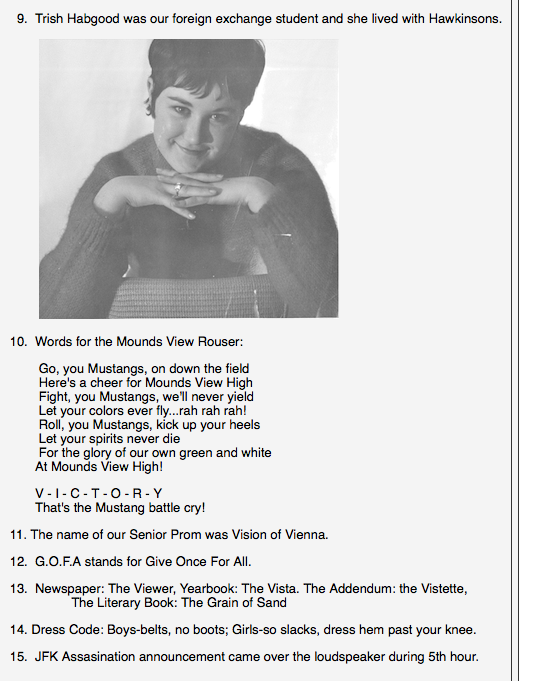 WATCH OUR OLD MVHS FOOTBALL GAMES ON YOU TUBE
:
https://www.youtube.com/DcraM5QNhLM
Here's a great joke submitted by Karen Opsahl (Charbonneau).
DOES THIS RING A BELL ?
HAVE YOU EVER BEEN GUILTY OF LOOKING AT OTHERS YOUR
OWN AGE AND THINKING, SURELY I CAN'T LOOK THAT OLD.
WELL . . . YOU'LL LOVE THIS ONE.
MY NAME IS ALICE , AND I WAS SITTING IN THE WAITING ROOM
FOR MY FIRST APPOINTMENT WITH A NEW DENTIST.
I NOTICED HIS DDS DIPLOMA ON THE WALL, WHICH BORE HIS FULL NAME. SUDDENLY,
I REMEMBERED A TALL, HANDSOME, DARK-HAIRED BOY WITH THE SAME NAME HAD
BEEN IN MY HIGH SCHOOL CLASS SOME 40-ODD YEARS AGO.
COULD HE BE THE SAME GUY THAT I HAD A SECRET CRUSH ON, WAY BACK THEN?
UPON SEEING HIM, HOWEVER, I QUICKLY DISCARDED ANY SUCH THOUGHT.
THIS BALDING, GRAY-HAIRED MAN WITH THE DEEPLY LINED FACE WAS WAY TOO OLD
TO HAVE BEEN MY CLASSMATE.
AFTER HE EXAMINED MY TEETH, I ASKED HIM IF HE HAD ATTENDED
MORGAN PARK HIGH SCHOOL ..
'YES. YES, I DID. I'M A MUSTANG,' HE GLEAMED WITH PRIDE.
'WHEN DID YOU GRADUATE?' I ASKED.
HE ANSWERED, 'IN 1975.. WHY DO YOU ASK?'
'YOU WERE IN MY CLASS!', I EXCLAIMED.
Here's a reunion joke submitted by Jan Horton Plessas:
A widow and a widower at their 50th high school reunion.......
They had known each other for many years, being high school classmates and having attended many class reunions in the past without fail.
This 50th anniversary of their class, the widow and the widower made a foursome with two other singles.
They had a wonderful evening, their spirits high. The widower throwing admiring glances across the table, the widow smiling coyly back at him.
Finally, he picked up courage to ask her, "Will you marry me?"
After about six seconds of careful consideration, she answered, "Yes, yes I will!"
The evening ended on a happy note for the widower. But the next morning he was troubled. Did she say yes or did she say no? He couldn't remember.
Try as he would, he just could not recall. He went over the conversation of the previous evening in his mind, but his mind was blank.
He remembered asking the question, but for the life of him could not recall her response. With fear and trepidation he picked up the phone and called her.
First, he explained that he couldn't remember as well as he used to. Then he reviewed the past evening. As he gained a little more courage he then inquired of her, "When I asked if you would marry me, did you say yes or did you say no"?
"Why, you silly man! I said, yes, yes I will. And I meant it with all my heart."
The widower was delighted. He felt his heart skip a beat.
Then she continued. "And I am so glad you called, because I couldn't remember who asked me"!